Thanksgiving, a holiday synonymous with food, family, and gratitude, is just around the corner. COVID-19 means that holiday gatherings will look very different this year, and it can be hard to feel grateful with all of the hardships 2020 has brought. But despite the challenges, there is so much to be thankful for. At HIPHI, we are thankful for the frontline and essential workers that put themselves at risk to serve their community during the pandemic. We are thankful for the people of Hawai'i, who have made countless sacrifices to keep our community safe. We are thankful for all of the people and organizations that stepped up to help in times of immense need and look forward to celebrating some of them during Wednesdayʻs webinar (details below).
The Hawai'i Food Bank is one organization working to fight hunger and keep Hawaiʻi residents fed. Since the onset of the pandemic, food insecurity in Hawai'i has grown by more than 50 percent, and nearly a quarter of a million Hawai'i residents are currently struggling with hunger. If you are able to, please consider donating – you can even designate your donation to your local food bank.
We would also be remiss if we did not acknowledge that for many Native Americans, Thanksgiving is a day of mourning and a reminder of the centuries of oppression, theft of lands and genocide. In July, we committed to being more intentional in our equity and social justice work, and that includes recognizing the ugly parts of our history. We still observe the holiday and its spirit of gratitude, but cannot ignore the very real pain of indigenous people.
Our next Public Health Action Webinar, Celebrating Community: COVID-19 Success Stories, is this Wednesday, November 18 from 1 – 2 PM. Over the past seven months, we have all faced countless challenges impacting our health, economy, and way of life. From these events we continue to learn, grow and work together to keep our communities safe and healthy. This webinar will feature Chauncey Hatico from Hui Mālama Ola Nā 'Ōiwi, Olivia Pascual with Lāna'i Community Health Center, and Rich Yust representing the Maui Food Bank.
STATE UPDATES
The Hawai'i Department of Health is releasing weekly COVID-19 cluster reports (scroll to the bottom of the page) every Thursday to illustrate COVID-19 trends across the state. The report will highlight recent incidents in which the virus occurred at one time, in the same geographic location, or among people with the same or similar shared exposures.
The Hawai'i Restaurant Card Program has been expanded! From November 13 to December 10, 2020, businesses will be able to purchase the card for employees, clients and partners during the holiday season. Cards are available in denominations from $5 to $1,000 and must be used by March 31, 2021. Beginning November 20, more than 32,000 eligible Pandemic Unemployment Assistance individuals will receive a preloaded, prepaid card containing $500.
COUNTY UPDATES
City and County of Honolulu
The City and County of Honolulu partnered with the National Kidney Foundation of Hawai'i to open a mobile COVID-19 testing lab at the Daniel K. Inouye International Airport. The lab is a trusted testing partner in the pre-travel testing program and can conduct up to 10,000 tests a day with results in 3 to 6 hours. Tests are free for City and County of Honolulu first responders, their household members, and federal, state and city employees working at the airport. Learn more and schedule a test here.
Hawai'i County
Hawai'i County has scaled back their post-travel testing program, now testing up to 25% of arriving travelers. Mayor Harry Kim explained that the county is still committed to monitoring the spread of COVID-19 among arriving travelers, financial and logistical challenges made testing all passengers in the state's pre-travel testing program unsustainable.
Maui County
On November 12, Mayor Michael Victorino issued a "Safer at Home" order for Lāna'i, lifting restrictions for residents but still encouraging them to stay home. Travel from Lāna'i within Maui County is allowed, but travelers entering Lāna'i are required to quarantine for 14 days unless they participate in the pre-travel testing program or for approved critical infrastructure functions.
Kaua'i County
Kaua'i is still in Tier 4 of its reopening plan, the least restrictive level. To remain in this tier, Kaua'i must maintain a seven-day case average of under 2, and the average positivity rate must be below 1%. Track Kauai's metrics at www.kauai.gov/COVID-19.
PUBLIC HEALTH ACTION WEBINAR, 11/18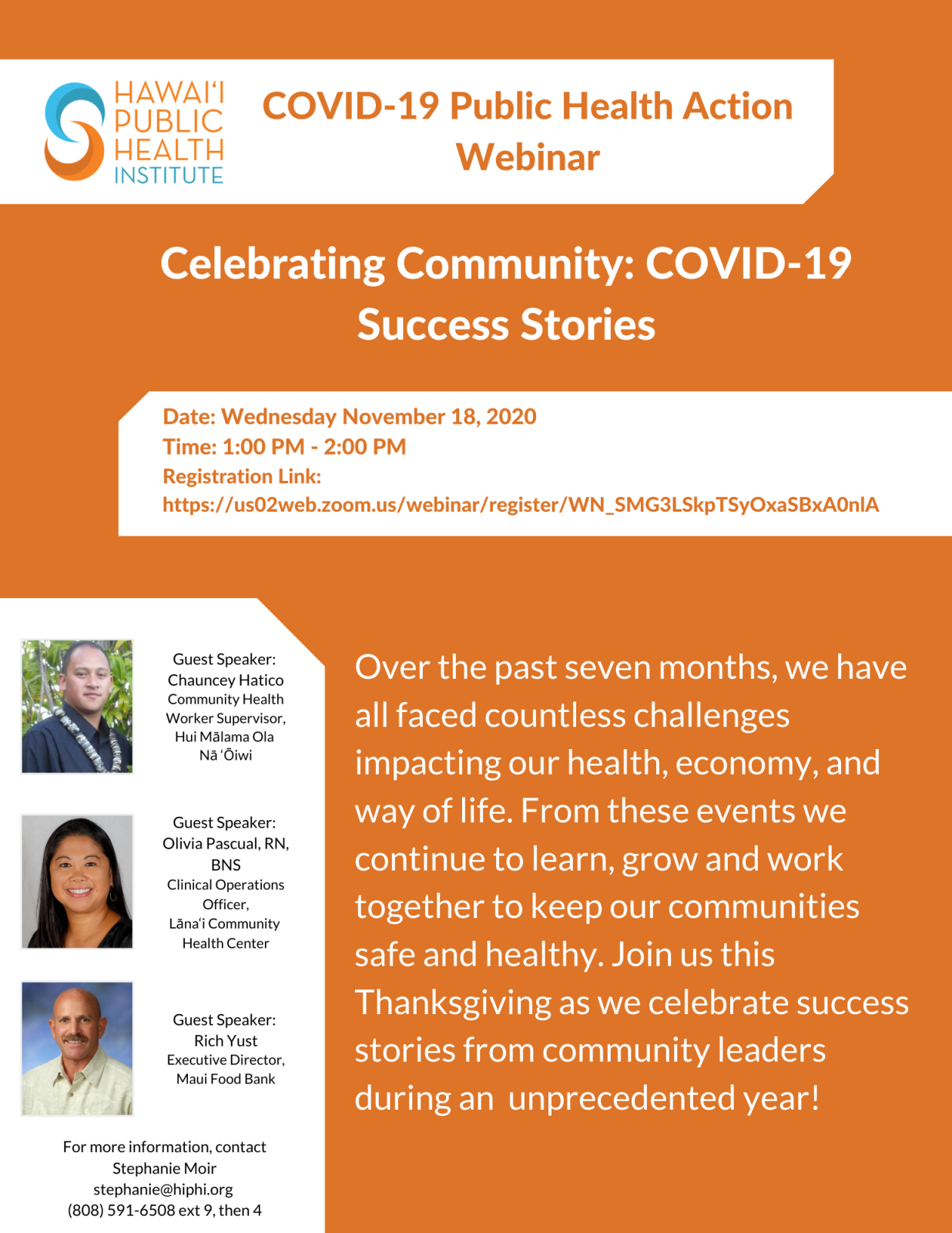 With the holidays approaching, the Hawai'i Department of Health has launched the "How to Gather. For Real." campaign to demonstrate how to gather safely  with 'ohana, friends, and co-workers.
PUBLIC HEALTH TIP OF THE WEEK
The holiday season is often associated with gatherings with family and friends, but with COVID-19, this year's celebrations will look very different. Many of us may be disappointed at the prospect of smaller holiday gatherings, especially after months of social distancing and staying at home, but it's important to remember why we are doing this: to keep our loved ones safe. We know that it's also important to find ways to adapt our traditions, and the CDC provides recommendations on celebrating Thanksgiving safely if you observe the holiday. Some ideas include safely preparing dishes to deliver them to family and neighbors, hosting a virtual meal, or participating in a gratitude activity, like writing down things you are grateful for and sharing with your friends and family.
COMPLIMENTARY E-COMMERCE AND DIGITAL MARKETING SUPPORT FOR HAWAI'I BUSINESSES
Hawai'i businesses can apply for free e-commerce and digital marketing support through the Hawai'i Business Pivot Grant program. The program matches companies with specialized consultants who help improve the company's digital presence and expand their market during the COVID-19 pandemic. This application process is separate from the Pivot Grant, with applications are accepted on a first-come-first-serve basis. Learn more and apply here.
THE KOHALA CENTER'S FULL CALABASH FUND AIDS STRUGGLING FAMILIES AND FOOD PRODUCERS
The Kohala Center announced the launch of the Full Calabash Fund, a statewide effort to support vulnerable families and food producers most impacted by the coronavirus pandemic. Initially established with support from The Harry and Jeanette Weinberg Foundation, the Full Calabash Fund will provide grants to Hawaii's community-based organizations that provide food procured from local farmers, ranchers, and food producers to community members in need. The deadline to apply is Tuesday, December 8, 2020 by 5 p.m. HST. For more information about the Fund, to download an application, or to make a donation, please visit The Kohala Center's website at koha.la/calabash or contact Nicole Milne at nmilne@kohalacenter.org or 808-887-6411.
PUBLIC HEALTH MESSAGING ACROSS THE POLITICAL DIVIDE IN THE TIME OF COVID-19
In this challenging time, it's crucial that public health professionals are able to speak productively and meaningfully with people who hold different political perspectives and view complex health issues differently. The Kresge Foundation's Emerging Leaders in Public Health created a guidance document on framing COVID-19 messaging using the Moral Foundations Theory Framework. Find additional resources, webinars, and presentations on the topic here.
DO YOU HAVE RESOURCES OR INFORMATION ON COVID-19 TO SHARE?
If you have any resources or updates we should include in our next weekly email or website, feel free to contact us at covidresponse@hiphi.org.
https://www.hiphi.org/wp-content/uploads/2020/03/1.png
1080
1080
Jaylen Murakami
https://hiphi.org/wp-content/uploads/2016/08/HIPHIWebLogo.png
Jaylen Murakami
2020-12-08 09:39:43
2020-12-08 09:39:43
HIPHI COVID-19 Update 11/16