The holiday season has officially begun, but with COVID-19, celebrations will be different this year. This past weekend, Halloween has shown us that we can adapt our holiday traditions to celebrate safely with a little bit of creativity. Precautions are a must, but holiday celebrations can be a joyful break from daily stressors during these challenging times.
To keep your loved ones safe this holiday season, please continue to wear a mask, wash your hands, practice social distancing, and stay home when you're sick. If you are meeting with others outside of your household, keep gatherings small and outdoors if possible. The recent outbreak on Lāna'i demonstrates how quickly the virus can spread in our communities. We must vigilantly practice these habits every time we leave our homes or interact with others outside of our household.
Register for our next Public Health Action Webinar, Celebrating Community: COVID-19 Success Stories, on Wednesday, November 18 from 1 – 2 PM. Over the past seven months, we have all faced countless challenges impacting our health, economy, and way of life. From these events we continue to learn, grow and work together to keep our communities safe and healthy. Join us for this webinar as we celebrate success stories from community leaders during an unprecedented year.
STATE UPDATES
The Hawai'i Business Pivot Grant program will help small businesses and nonprofits that have pivoted their business models due to COVID-19. The program provides grants of up to $10,000 for expenses such as web design and social media, improving automation or training, and implementing physical distancing measures. Applications will be accepted through November 23, 2020 as long as funds are available. The website also includes workshops and a marketplace to connect local companies to help businesses.
A Pre-Travel Testing program with Japan will begin on Friday, November 6. This will allow travelers from Japan to bypass the state's mandatory 14-day quarantine if they take a COVID-19 test prior to arrival. Like with trans-Pacific travel, the test must be from a trusted testing partner, taken no earlier than 72 hours prior to departure, and must be negative. For more information, visit www.hawaiicovid19.com or www.allhawaii.jp/covid19/.
COUNTY UPDATES
City and County of Honolulu
O'ahu is currently in Tier 2 of its re-opening strategy. Learn more about what activities and businesses are permitted here (also translated into 11 languages!).
O'ahu residents now have a mail-in option to replace state ID cards, duplicate driver licenses, and renew certain driver licenses. Learn more here. If you have an existing AlohaQ appointment and choose to renew via mail, be sure to cancel your appointment to open the space for others!
Hawai'i County
Hawai'i county now allows interisland travelers to bypass the mandatory 14-day quarantine with either a pre- or post-travel test. Pre-travel testing conducted by a trusted partner, taken 72 hours prior to departure, and negative. Travelers arriving without a pre-travel test will be required to quarantine until they take a post-travel test from a trusted partner and receive their results.
Maui County
Due to the surge in cases on Lāna'i, Mayor Michael Victorino has enacted a Stay-at-Home order for Lāna'i residents. People traveling from Lāna'i to Molokai and Maui are also required to quarantine for 14 days unless they participate in the pre-travel testing program or for approved critical infrastructure functions.
Travelers to Maui County are encouraged to take  a free post-travel test at least 72 hours after arrival. To take the test, participants must pre-register online or call (808) 667-6161 ext. 7 for help and more information.
Kaua'i County
Mayor Derek Kawakami is encouraging more returning residents and visitors to participate in Kaua'i's post-travel testing program. For arrivals between October 15 – 26, about 20% of eligible returning Kaua'i residents and 2% of visitors took a post-travel test. The test is free and participants will receive their results the same day.
PUBLIC HEALTH ACTION WEBINAR, 11/18
SAFE TRAVELS QUICK FACTS – UPDATED 10/27

'OHANA HELP DESK FOR PUBLIC SCHOOL STUDENTS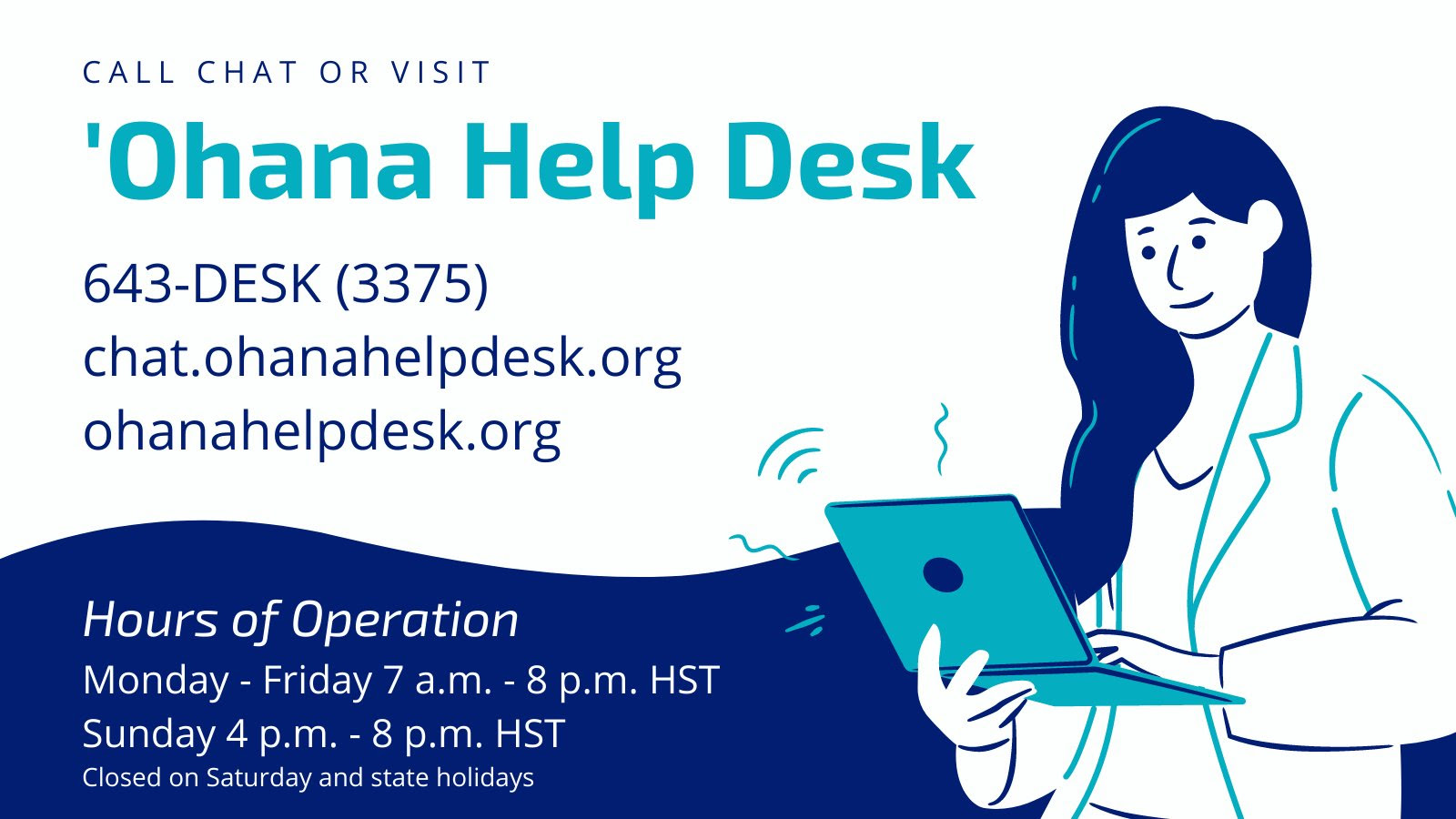 The 'Ohana Help Desk provides technology support to public school students and their parents as they transition to more opportunities for online and blended learning. They offer assistance through their website, phone, or chat service.
PUBLIC HEALTH TIP OF THE WEEK
The 2020 General Election is tomorrow, November 3 and over 484,000 Hawai'i voters have already turned in their ballots for this historic election! With the COVID-19 pandemic, elected officials at all levels of government have a pivotal role in shaping policies that influence health. Need help learning where candidates stand on public health issues? HIPHI conducted a candidate survey – view the results at hiphi.org/survey20. Please note that HIPHI is a non-partisan organization that neither supports nor opposes any political party or candidate for office.
If you haven't voted yet, do NOT mail your ballot, as it will not arrive in time to be counted. Drop your completed ballot in a place of deposit ballot box or a voter service center. The voter service centers also offer accessible in-person voting and same-day voter registration! All ballots must be received by November 3 at 7 PM HST. If you've already turned in your ballot, you can check if it was received here.
EXPANDED COVID-19 DATA DASHBOARD 
An expanded COVID-19 dashboard was launched today on the state's COVID-19 website, hawaiicovid19.com. The updated dashboard provides access to daily COVID-19 case counts, seven-day case averages, positivity rates, and the number of deaths caused by COVID-19. It also features a county-by-county summary of hospital resources, economic trends, and tourism.
KEIKI ART CONTEST: WHAT HEALTHY HABIT HAVE YOU DEVELOPED IN HAWAI'I DURING COVID-19?
Native Hawaiians and Pacific Islanders (NHPI) commonly live in multigenerational households with limited access to culturally responsive healthcare services and linguistically appropriate resources, increasing potential health issues. Healthy Habit Hawai'i is hosting a NHPI Keiki Art contest to raise awareness, get families involved and bring pride to our communities. The prompt is "What healthy habit have you developed in Hawaiʻi during COVID-19?" 2-D and multimedia art pieces will be accepted. ​Keiki ages 5-18, with parent permission, are encouraged to submit 2-D and multimedia art pieces. Entries will be accepted from November 4 to December 4, 2020 and each contestant can submit up to five entries.
DO YOU HAVE RESOURCES OR INFORMATION ON COVID-19 TO SHARE?
If you have any resources or updates we should include in our next bi-weekly email or website, feel free to contact us at covidresponse@hiphi.org.
https://www.hiphi.org/wp-content/uploads/2020/03/1.png
1080
1080
Jaylen Murakami
https://hiphi.org/wp-content/uploads/2016/08/HIPHIWebLogo.png
Jaylen Murakami
2020-12-08 09:36:28
2020-12-08 09:36:28
HIPHI COVID-19 Update 11/2