After reflecting on all we are thankful for during a challenging year, we have been lucky to have your support! Tomorrow is #GivingTuesday, a moment when people around the world come together to give back. Whether through volunteer hours, donations or sharing posts, our reach and impact has grown this year and we have you to thank. If you have appreciated the information we've shared on COVID-19 and are able to support, please consider donating today to help us continue elevating public health in 2021.
As the end of the year approaches, so does the deadline to spend all of the Coronavirus Relief Funds received by the federal government. Any unspent funds must be returned, though Hawai'i intends to spend all $1.25 billion received. The Hawai'i Data Collaborative has a page dedicated to tracking the Coronavirus Relief Funds. Some examples of how this money was spent include helping struggling residents pay their rent or mortgage, offering relief to small businesses, boosting testing efforts, purchasing personal protective equipment, and feeding Hawai'i families with local agriculture.
With that in mind, our next Public Health Action Webinar, Hawaii's State Budget and CARES Funds: What to Expect in 2021, is very timely. Join us in this important update about the state budget and Hawaii's federal COVID-19 spending. Beth Giesting, Director of the Hawai'i Budget and Policy Center and Jill Tokuda, Special Advisor for the Hawai'i Data Collaborative, will examine the situation and share key details about the dollars and decisions vital to our economic recovery and sustainability. You can also watch our previous webinar on COVID-19 success stories here.
STATE UPDATES
Safe Travels Program
Test results required prior to travel. As of November 24, all trans-Pacific travelers must have a negative test result from a trusted travel partner prior to their departure in order to bypass the 14-day quarantine. The new policy applies to domestic trans-Pacific flights and international flights departing from locations participating in Hawaiʻi pre-testing programs. This does not affect inter-island travelers.
Canada program expansion. Beginning in mid-December, travelers flying from Canada to Hawaiʻi may bypass the state's mandatory 14-day quarantine if they take a COVID-19 test from labs identified by Air Canada and WestJet. The test must be taken within  72 hours of travel to the State of Hawai'i, and a negative test result must be received prior to departure.
Preliminary evaluation. As of November 24, 45 positive COVID-19 cases have been identified out of 20,253 tests (or 2.2 per 1,000) since the Safe Travels program launched on October 19, 2020. Preliminary findings can be found here.
COUNTY UPDATES
Kaua'i County
Mayor Derek Kawakami has temporarily opted out of the state's pre-travel testing program due to a surge in COVID-19 cases in the county. Effective December 2, 2020, all travelers arriving on Kaua'i are subject to a 14-day self-quarantine regardless of testing. This includes both trans-Pacific, international, and inter-island travelers.
City and County of Honolulu
The Small Business Relief and Recovery Fund is reopening for one week starting tomorrow, December 1, at noon after receiving an additional $24 million in funding. Only businesses that have not received any funding from the program OR have been closed or operating at greatly reduced capacity (i.e. bars and nightclubs, gyms and fitness facilities, arcades, and commercial recreational boating) are eligible.
Maui County
Lāna'i's "Safer at Home" order expires today, November 30, and the island will move into the "Act with Care" phase.
The county is also running a mask campaign, reminding residents and visitors that face coverings are required in public for anyone over the age of 5. Businesses can print a "Keep Maui County Healthy" flyer for their storefronts.
Hawai'i County
Mayor Harry Kim updated Hawai'i County's rules on pre-travel testing to align with the state's, requiring trans-Pacific travelers to have their test results upon arrival to avoid the 14-day quarantine. There is no change for inter-island travelers – they can either test for COVID-19 no more than 72 hours before traveling to Hawai'i Island or be tested after arrival. A negative post-arrival test would allow the traveler to be released from quarantine.
The emergency rule also incorporates the statewide face covering mandate, requiring people to wear face coverings while in public settings.
PUBLIC HEALTH ACTION WEBINAR, 12/9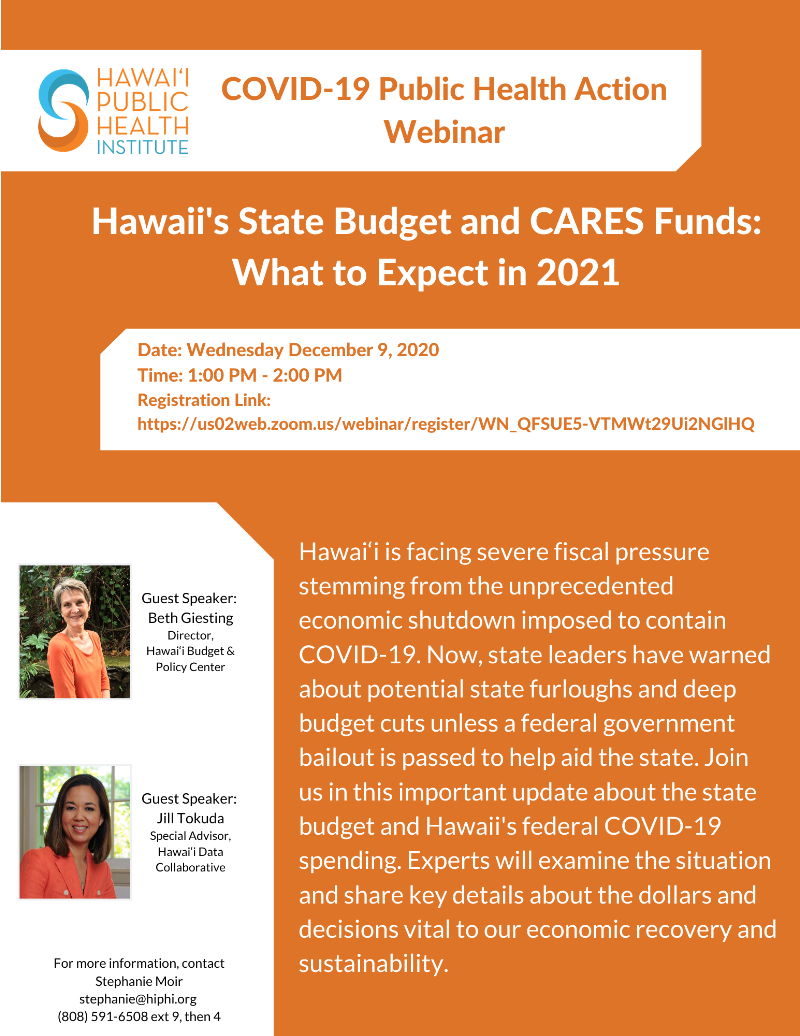 PUBLIC HEALTH TIP OF THE WEEK
While we hope you and your loved ones are staying healthy, what happens if you test positive for COVID-19? Your first step should be isolating yourself to prevent the spread. If you need help with COVID-19 isolation and quarantine support, contact Hawai'i CARES at 1-800-753-6879 or text ALOHA to 741741. Start working on a list of your close contacts – both household and non-household – for contact tracing and to notify them that they should begin quarantining. The Department of Health recently created an infographic to explain what cases, close contacts, and contacts of close contacts should do in this situation.
HAWAI'I HEALTH MINUTE VIDEO UPDATES ON SOCIAL MEDIA
The Department of Health is now posting short COVID-19 update videos on Twitter, Instagram, and Facebook! Featuring Brooks Baehr, the Hawai'i Health Minute videos share updates, information and tips about the COVID-19 pandemic. Most recently, Brooks Baehr talked about the state's vaccine rollout, and what we can expect in the coming weeks and months.
COUNTY RESOURCE GUIDES
Inspired by the Kaua'i resource directory (scroll to the bottom) created by Kaua'i County, Hawai'i Public Health Institute created similar pieces for Hawai'i County, Maui County, and the City and County of Honolulu. These documents provide resources related to housing, finances, healthcare, COVID-19 testing, childcare, and food.
UNIVERSITY OF HAWAI'I OPENS A COVID-19 TESTING LABORATORY IN KAKA'AKO
The University of Hawaiʻi has begun operations at its new COVID-19 testing laboratory, Tropical Medicine Clinical Laboratory (TMCL), based at UH Mānoa's John A. Burns School of Medicine in Kakaʻako. Created in partnership with the City and County of Honolulu, the TMCL will expand testing capacity for vulnerable populations, such as homeless and uninsured individuals, on Oʻahu. TMCL is also collaborating with seven Federally Qualified Health Centers across Oʻahu to process tests for underserved, uninsured and front-line workers who may require multiple tests for safety at their workplace. COVID-19 nucleic acid tests are provided at the Kakaʻako clinic, but can also be offered at outreach sites in the community by request. There is no charge to patients and providers for the services. For more information or to discuss how the TMCL can work with your organization, please contact Angela Sy, DrPH at sya@hawaii.edu or visit their website.
DO YOU HAVE RESOURCES OR INFORMATION ON COVID-19 TO SHARE?
If you have any resources or updates we should include in our next weekly email or website, feel free to contact us at covidresponse@hiphi.org.
https://www.hiphi.org/wp-content/uploads/2020/03/1.png
1080
1080
Jaylen Murakami
https://hiphi.org/wp-content/uploads/2016/08/HIPHIWebLogo.png
Jaylen Murakami
2020-12-08 09:42:33
2020-12-08 09:42:33
HIPHI COVID-19 Update 11/30